Creative Expression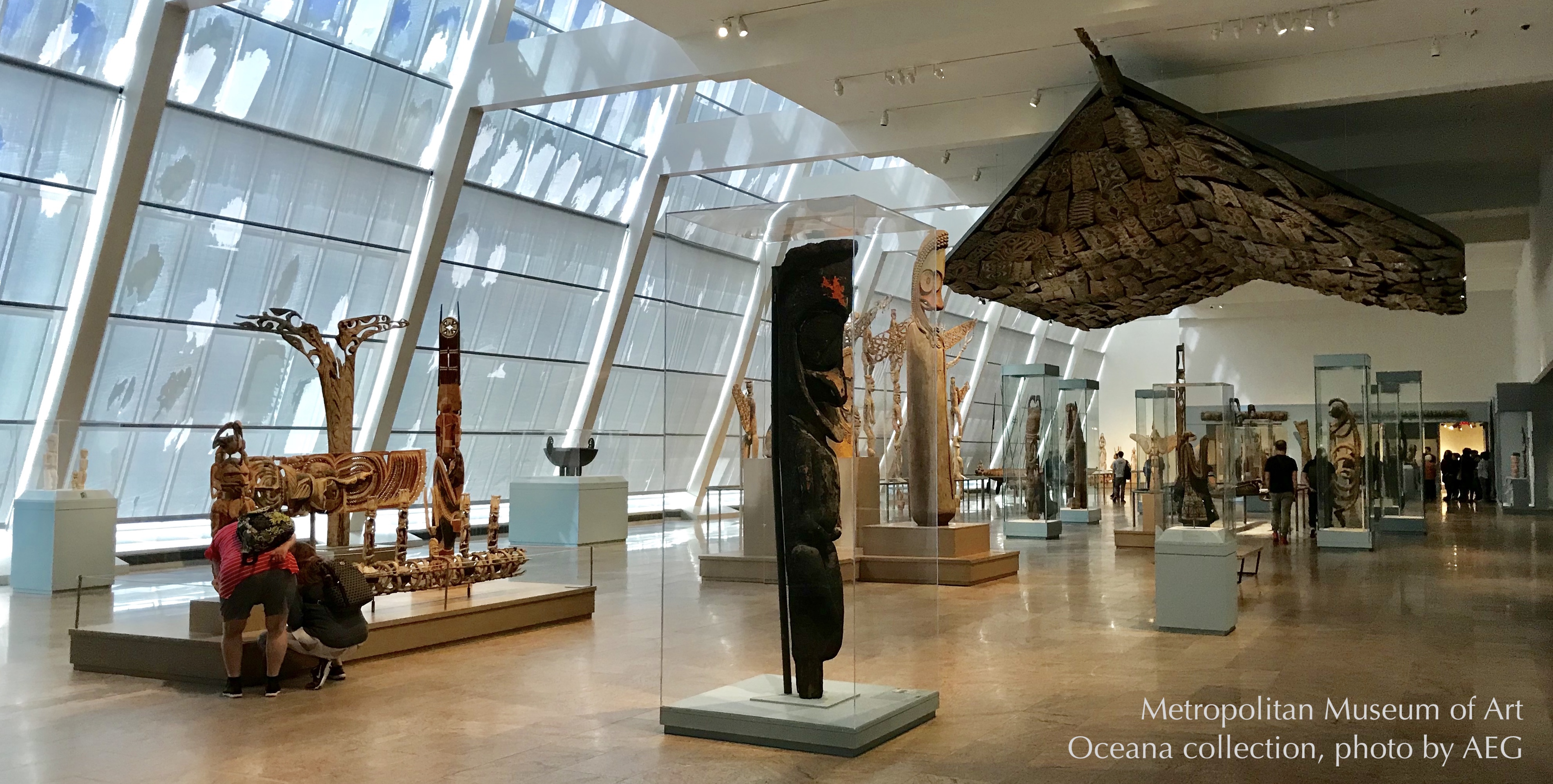 Every culture expresses itself through art, music, food, costumes, buildings, and language (among other things). Here are some forms of expression I like, specific to my "contemporary" culture.
In art school, we were only allowed to study artists who were dead. This was frustrating, but conventional (non)wisdom stated that you don't really appreciate artists while they're alive, because their work makes much more sense in retrospect. I don't buy this theory, perhaps because I'm not a collector out to increase the value of my collection. This framework does mean that I'm far more educated about the work of artists whose entire careers can now be reviewed in retrospect (Berenice Abbott, Ansel Adams, Diane Arbus), while much less information is available about those still alive and trying to make a living.
Anyway. There are numerous living artists I like, all with different talents. I have been really weak about adding them here, but I'll try to improve.
I trained as an architect, and in school we studied art and architecture history, waiting to evaluate anyone's work and career until it could be safely viewed in retrospect, after the artist or architect was dead. This in part is because live architects can be obnoxious if they are too famous and their firm is named after them. but I've always thought this was a bit rude toward those who are still upright and doing good work. Nevertheless, there is more available on the dead, and so I know more about them. My favorite departed artists are:
Berenice Abbott. Abbott was one of those photographers who was dabbled in everything: writing, sculpture, portraiture, and finally, gorgeous view camera images of New York during major transitions. Abbott's Changing New York is my most prized and favorite photography book (the MOMA edition, rather than the original). Abbott was as much a brilliant technician as she was an artist: the exposures of challenging lighting situations are incredible. She is an enormous inspiration to me.
Diane Arbus. Her portraits of people on the edges of society made me realize that portrait photography can be more relevant and interesting than the people-pictures that I am usually bombarded with. She also had cool darkroom technique.
Ansel Adams. Oh, you knew he would come up. I love the Sierras with an incredible passion, and you can tell very easily from looking at his work that he did, too. He was also quite a technician, developing his own chemistry and writing an array of deep technical manuals (which I don't use, because everything has changed since then). I was amazed to learn from his writing of how much darkroom work he did to get the results he had, and how he believed that frequently photographed places required not only stellar images on stellar negatives, but considerable manipulation during printing to express a unique personal vision. (I'm something of a negative purist, so this was a shock to me.)
Louise Bourgeois. My favorite sculptor, impressing me with her giant maternal spiders, plus her many works in cages.
Imogen Cunningham. I not only love her photographs, but I love everything I've read about her life: her exuberance, her willingness to experiment and revise without clinging to techniques that no longer served her, and her fabulous curiousity.
Oh, there's such a long list, I'm not sure where to stop. Claude Monet, because his images at the D'Orsay made up for all the martyrdom, bleeding soldiers, and unhappy (and/or senselessly topless) women in the Louvre. Van Gogh, even though, upon a close inspection of his work you could tell he was insane, he was insane in a very productive way. A bunch of California painters whose landscapes make me homesick. Imhotep, who did that step pyramid at Zoser. I'll stop for now, but there are lots more.
A well-informed populace is a necessary ingredient to any democracy. The media landscape in the United States has shifted from a collection of diverse and widely spread opinions which could be cheaply had, to a consolidated, commercial series of monopolies which represent only the viewpoint of corporations and those that run them. In poll after poll, Americans fail to be able to relay basic facts about world events, or worse, believe rumors and outright lies they gained from mainstream sources. Such a situation undermines our freedoms, our government, and all aspects of our public and private lives.
There are numerous great organizations - people just like you who decided that they needed to analyze what is going on, and call th"eeeeeeeestporate medion its errors, omissions, and lies. Here are links to a few of them.
On average, I have a very low 'web publishing pal' quotient. I'm not sure, given my own habits, how that has come to pass.
Larry Hosken's web home, in all the glory of monochrome green.
My cousin, Ollie, the person most like me on this earth, has several pages.
Jay Kullman now has more than one page up!
Larry Coles is promoting his book, Freshman Pledge: The Magic of Love (books.google.com), a steamy gay romance.
Frank Chan has multiple web presences. If I can make presence plural. Which I will.

Frank's fabulous film, Russian Hill Roulette (russianhillroulette.com) is a fabulous, fun SF bike film that you must check out right now. You must. Really. I'll make you.
Frank is also on the crew of Since You've Been Ong (sinceyouvebeenong.com), another great short film.
He also has chanarchy.com, which he uses to link to his more active projects.

Joerg Steineck, filmmaker, designer, illustrator, and more, has several pages:
I've purged the MySpace links that were previously here, since my friends are FINALLY over that. Thankfully.
It was one of my early life goals to own a fabulous library of books I have loved. Unfortunately, many of my treasured volumes were damaged in storage, which is squelching my dream a bit. But I'm trying to keep my hopes up. This list is under development, and will take a more sensible form over time, as I understand the relationships between the books that have made an impression on me.
Armchair Travel

Beyond the Sky and the Earth, a journey into Bhutan, by Jamie Zeppa. A lyrical portrait of a woman teaching English and discovering her true self in a culture and landscape very different from what she thought she knew. Having traveled in Nepal makes the locales all the easier for me to visualize.
Tracks: A Woman's Solo Trek Across 1,700 Miles of Australian Outback, by Robyn Davidson. Get overwrought in the extremes of the desert with your dog and camels! Learn about what you REALLY have to do to get into National Geographic! Lose your social skills, but take really great notes about the intensity of a very intense existence!
Italian Days, by Barbara Grizzuti Harrison. Travel in Italy with a lover of food and life.

Biography

The Autobiography of Nelson Mandela. One of the great believers in non-violent social change shares an amazing life. This is a page turner, which he worked on during his years as a political prisoner and had to smuggle out of jail. Amazing. An inspirational work by a modest man and great leader.

Cookbooks
Ecology/Environment

Cadillac Desert: The American West and Its Disappearing Water by Marc Reisner. This book is absolutely fascinating. Not just for the collapsing dams and the impact that water policy has had on U.S. involvement in war! I was completely mesmersized by this book on the politics and history of water use here in the west. Water policy has influenced development, war, culture... This is an amazing book.
Fatal Harvest: the Tragedy of Industrial Agriculture, by the Foundation for Deep Ecology. A brilliant, oversized, heavily illustrated book about the serious damage industrial agribusiness has done to our landscape, our health, and biodiversity. (A smaller, unillustrated version is also available.)
Rodale's Illustrated Encyclopedia of Organic Gardening, edited by Pauline Pears. A lovely book on caring for the earth while your garden cares for you. (This is not an encyclopedia of popular plants like the Sunset Western Garden Book: you might want one of those to identify popular, non-native plants.)
the Nature Study Guild Publishers' Finders series, including Pacific Coast Tree Finder: a Pocket Manual for Identifying Pacific Coast Trees by Tom Watts, and the Redwood Region Flower Finder, A Guide to Identifying Wildflowers of the Coastal Fog Belt of California by Phoebe Watts. These are brilliant little books that use a dichotomous key system to guide you through all the possible options of what you're looking at.
Plants of the Coast Redwood Region by Kathleen Lyons and Mary Beth Cuneo-Lazaneo. This is a lovely book with photographs taken in Big Basin.
Silent Spring by Rachel Carson. I had always thought that I wouldn't need to read this book, since so much more recent environmental thought is based upon it, but it is a great read. It provides example after example of the misuse of chemical pesticides in the U.S. (the sort of tales that have you stopping people on the street to make them read a paragraph), and a chapter of more effective, proven and experimental alternatives. An excellent, informative work.

Feminism

Failure Is Impossible: Susan B. Anthony in Her Own Words, by Lynn Sherr. You know how there are always right-wing women touring the country on the lecture circuit while their kids stay home, saying that it's immoral for women OTHER THAN THEMSELVES to be touring the country on the lecture circuit, because the true woman's calling is exactly the opposite of what they are doing?? These hypocrites have ALWAYS existed. Learn about the drive of the suffragettes, imperfect though they were, in their hopes of winning a better life for all women, even the hypocritical ones.
Women's Work: The First 20,000 Years: Women, Cloth, and Society in Early Times, by Elizabeth Wayland Barber. The most entertaining book you'll ever read about fabrics! Miniskirts in ancient Europe; what the armless venus statues were doing when they had arms; why women were such valuable war plunder... The economics of fabric has had a huge place in history, and this book brings it to life.
The Second Sex, by Simone de Beauvoir. Philosophical discussions on being female and how society attempts to load meanings in silly ways. It's long, but it's insightful, despite being written by a woman of privilege who didn't immediately notice what her sisters were suffering.

Fiction

I have neglected this section forever. It's just that there's too much. And I've recently been absorbed in non-fiction. I'm not sure how to organize this section, so for now, I just won't.
Everything by William Gibson, Andre Norton, Marion Zimmer Bradley (especially Mists of Avalon and her Darkover), and Anne McCaffrey (Dragonriders of Pern); all of Edgar Rice Burrough's campy old Mars tales; C. S. Lewis' Chronicles of Narnia (if you are young, especially); Joan Aiken's grown up books; a bit of Michael Moorecook's Eternal Champion books until I got tired of the entire idea; Jo Clayton's Drinker of Souls trilogy; everything by Walter Moseley;
Microserfs by Douglas Coupland. This is the closest thing to a documentary about my peer group in the 1990s that has ever been written.
The Hitchhikers Guide to the Galaxy "trilogy" (5 books or so) by Douglas Adams. Sort of a geek bible. My father once tried to read this, and concluded after a chapter or two that the author is British and insane. :-)
My Year of Meats by Ruth Ozeki. A fictional, fact-based exploration of hormones in the meat industry, and some very scary personal relationships.
Jane Eyre by Charlotte Brontë. The mother of all melodramas! Orphanages run by stingy women; friend dying in your arms; surprises; romance; poverty; surprise inheritances; religious fervor; forbidden love; crazy wives locked in the attic -- you name a convention in dramatic films and books, and Brontë did it here. Unbelievably entertaining.

History

Why History Matters, by Gerda Lerner. Why do conquerors destroy the art and writings of the conquered? Why is history so hotly debated in academia? Why is the rule of some people over others justifiable? Who gets to decide if you're 'German enough?' Lerner's brilliant, scholarly work tells you why the victors always make sure they get to write the history books.
The Prospect Before Her: A History of a Women in Western Europe: 1500-1800, by Olwen H. Hufton. If you've ever romanticized European history and wanted to go back in time... You'll give that up after reading this. The fact that saints and kings went unwashed for so long distracted me from this book's depth. Learn what life was like for ordinary people, rather than the generals and wealthy folk that dominate your school texts.

Mindfulness

Gift from the Sea by Anne Morrow Lindbergh. A reflection on having time to oneself to think.
Being Peace by Thich Nhat Hanh. Soothing Buddhist reflections about the interconnection of all things.

Writing

How Proust Can Change Your Life, by Alain de Botton. Hysterical! A brilliant book by someone slightly younger than myself (oh-oh) about how to live a great life by NOT making the same choices Proust did.
If You Want to Write, by Brenda Ueland. A friendly book on writing honestly.
Good books I have read not-very-recently, but which are conveniently occupying space here while I work on my writings about the books I currently own. These are organized from most recent to least:
Persepolis 2: the Story of a Return by Marjane Satrapi. The second volume of Satrapi's autobiographical comic book. This is more personal and painful than the first issue, and leaves you scratching your head at what she must have suffered through to become... an aerobics instructor.
Get Your War On II by David Rees. He says all the things we would say aloud, if we were more honest, and if we used a lot more profanity.
Criticizing Photographs by Terry Barrett. How formal, academic critical reviews of photos are done. Very educational. Not as dry as I'm making it sound.
The Photographer's Eye by John Szarkowski. The influential photography curator of New York's MOMA writes about great photos. A quick read. Good images.
Food Politics by Marion Nestle. Why are Americans always confused about what to eat, what is good for them, and what the latest fad diet is? The public's confusion is by design: purveyors of unhealthy, processed junk and even traditional foods which are too high in fat and/or salt to be consumed regularly have spent billions of dollars to persuade us that, regardless of our personal health situation, we can and should consume their products. Public health science, which doesn't have a significant budget for nutrition education, simply can't compete financially with the food-industry's self-serving messages. This is informative and sad.
Tina Modotti: A Fragile Life by Mildred Constantine. The complex life of model and photographer Modotti.
Examples: the Making of 40 Photographs by Ansel Adams. Great text! Great images! I had no idea he manipulated his images so extensively in the darkroom.
Slow Food: The Case for Taste by Carlo Petrini, translated from Italian. This is a short and delightful book about the international Slow Food movement by one of its founders. Slow Food promotes foods which are healthy, local, and produced in sustainable ways by artisans who are paid appropriately for their labors. It is the opposite of fast food, which is unhealthy, produced in environmentally unsound ways and sent over long distances, and which involves countless, underpaid workers who develop few skills while assembling prepackaged pseudo-foods. The book provides a fascinating history of the movement, its victories, its growth around promoting the village wines of Italy, and the zeal of local farmers who banded together to promote local products that were at risk of fading into obscurity. The movement promotes a more attentive, meaningful way of eating and living. They rock.
War is a Force that Gives Us Meaning by Chris Hedges. This is the best book on nationalism and atrocities on the home front that I've ever read.
Artists in Times of War and Other Essays by Howard Zinn. You know Zinn.
Information War: American Propaganda, Free Speech, and Opinion Control Since 9/11 by Dr. Nancy Snow. Things you should know about the suppression of information here in the U.S. in "wartime."
Dorothea Lange: A Visual Life by Elizabeth Partridge. Insights on the famous documentary photographer's opinions.
Viewfinders: Black Women Photographers by Jeanne Moutoussamy-Ashe. I can't be the only one, right? This is a collection of short profiles on American photographers, most lost to relative obscurity.
Photography Past/Forward: Aperture at 50. The Aperture Foundation looks back on its roller coaster history of magazine publishing, filled with famous photographers who didn't get along, and constant financial turmoil.
Pie Any Means Necessary: the Biotic Baking Brigade Cookbook, edited by Agent Apple. This isn't so much a cookbook as a tribute to the art of creative protest, a collection of really painful puns, and an exploration of the European tradition of jester-like pranks. The most charming part of the book: the interview with Noel Godin, author of "Cream and Punishment" and a famous entartist in France and Belgium. This charming gentleman uses cream pies to denounce carefully selected, self-absorbed targets who have no sense of irony, and thus overreact dramatically to their creamings.
Salam Pax: the Clandestine Diary of an Ordinary Iraqi by Salam Pax (pseudonym). This is a compilation of Pax's web log entries from 09/07/02 - 06/28/03, and they are a fabulous read. What was it like to be an English-speaking, secular, Iraqi in the lead up to the war? Pax's on-line journal lets you know. His criticisms strike everyone, everywhere. Amazingly, he was getting mail from Americans who were telling him how grateful he should be about being bombed!! I hadn't realized anyone had that kind of nerve. His casual writing style and honesty is remarkable: he considered the war to be inevitable once the U.S. Administration made up its mind, and so focuses on the consequences and aftermath, not on justi/villifications of the war itself. This is a page turner that's very difficult to put down until you finish.
The Problem of the Media: U.S. Communication Politics in the 21st Century by Robert McChesney. A well informed populace is an essential requirement of a democracy, and the early governments of the U.S. sought to encourage the widespread dissemination of ideas. The systems they put in place have been dismantled and reversed by those who seek to manipulate public opinion to corporate ends. A great work.
Introduction to Grand Canyon Geology by I. Greer Price, Grand Canyon Association, 1999. A small and charmingly illustrated volume explaining how the Grand Canyon came to be.
People of the Blue Water: a Record of Life Among the Walapai and Havasupai Indians by Flora Gregg Iliff, University of Arizona Press, 1954. A young teacher is assigned to teach elementary school in the reservation system, and later patched together this record from her diaries and letters to her mother. Her view that she is there to 'civilize' the locals tells you what they had to put up with from the government. Her tales of plagues sweeping through the school, her attempts to debunk local beliefs, and the wildly disparate situations and values of tribes that lived on fertile land vs. tribes that lived on the lousy land near the government's facilities are quite informative amazing.
The Hopi Photographs: Kate Cory, 1905-1912, from Chaco Press, 1986. This book is phenomonal. A vegetarian painter of European ancestry was intrigued by a friend's idyllic and exotic descriptions of the Hopi people, packed her things, and moved in with the Hopi. It's unclear why they took her in. It's unclear why they allowed her to attend and photograph sacred ceremonies, some of which have since been lost. It's unclear how she made a living. But she created an unmatched photographic record of rituals from a culture which has been closed to such outsider intrusion for most of my life.
The Sierra Club Guide to 35 mm Landscape Photography by Tim Fitzharris, 1994. Pretty photos!
Margaret Bourke-White by Eleanor Ayer, 1992. A very promotional biography, full of exclamation points about the life of Life magazine's premier photographer.
What Can a Woman Do With a Camera? edited by Jo Spence and Joan Solomon, 1995. Social and personal projects for women looking for inspiration close to home. This is sort of a 'beginners guide' to seeking out your voice.
The Professional Photographer's Guide to Shooting & Selling Nature & Wildlife Photos by Jim Zuckerman, Writer's Digest Books, 1991. I can summarize this one quickly: 'take perfect photographs.' This is heavily illustrated with great photos. If yours are at least as good as his, he says you have a chance!
Berenice Abbott Photographs by Berenice Abbott. "Photography can never grow up if it imitates some other medium. It has to walk alone; it has to be itself." A collection of her photos, including some of the scientific ones.
How to Open and Operate a Home-based Photography Business by Ken Oberrecht, Globe Pequot Press, CT 1993. Practical and friendly advice.
Berenice Abbott's Changing New York. This is the single most beautiful photography book I have ever owned. It's a fabulous documentary of large-format images made of New York while it stood on the verge of redevelopment. This has had a huge influence on me since.
Ansel Adams at 100, from SFMOMA. A look back at Adams' life work, which had high points and low points. I hadn't realized that the images that made him famous were made over a relatively short period of time, and that his other work wasn't always as strong.
Lisette Model published by Phaidon. A small book with photos and a brief biographer of the photographer. I also got Tina Modotti and James VanDerZee from this series, and they're all of very good quality.
Monkey vs. Robot by James Kochalka. A touching, nearly wordless graphic novel about the destruction of nature.
Diane Arbus - Revelations by Doon Arbus. This is one of the best books I've yet read about a modern photographer. It accompanied a brilliant exhibit at the San Francisco Museum of Modern Art, which reflected the brilliant interpretive material included here: Arbus' notes, diaries, unprinted images, references to her library, information about her camera, a timeline of her life... Plus a gorgeously printed collection of her photographs.
The Noblest Invention by Bicycle Magazine. A glossy book about the history of the bicycle. It's mostly about the famous boys, though there have been some historic hard-core women who get passing mention and raise questions like, 'so if she biked the Tour de France, what other women have?'
Zen Keys by Thich Nhat Hanh. A very clear explanation of the principles of Zen meditation. One chapter, about how tradition was passed down, distracts from the rest of this charming book.
Media Control: the Spectacular Achievements of Propaganda, 2nd Edition by Noam Chomsky. Oh, have we ever been lied to! Again and again and again...
The Great Big Book of Tomorrow (This Modern World) by Tom Tomorrow. Yes, more political comics. It's alarming how this book demonstrates the author's ability to perceive the way our culture is headed (sedatives and shopping), and how alarmingly familiar the first and second Bush administrations have been. I'd blotted out much of that trauma, but am shocked to see how closely we are revisiting that era.
A Right to be Hostile: the Boondocks Treasury by Aaron McGruder. Yes, this is a collection of comic strips about left-leaning Huey and his commentary on world events in the early days of his involuntary relocation to the suburbs. This comic strip isn't allowed on the comics page out where my folks live: the paper hides it near the classifieds, for fear of offending people who want a light laugh from their illustrated reading.
Propaganda, Inc. by Nancy Snow. This book is out in second edition already! This involves the U.S. Information Agency's revised role as a propaganda tool to serve idealogue masters at the expense of the U.S.' greater needs. Snow's website has a fabulous collection of links to articles about media manipulation and propaganda.
The Pacific Crest Trail by William Gray. This 1978 book from National Geographic provides photographs of the PCT along with commentary from an assigned writer who hiked significant portions of the trail, but not all. Gray spends time interviewing ranchers and townspeople along the route, visiting mining towns, and chatting up National Forest Service logging folks. The result is a scenic overview, which provides good information on the history and politics surrounding the trail, without getting as gritty and day-to-day as experienced through-hiker Cindy Ross' book. (Ultimately, I like Ross' book better.)
The Watercolor Handbook: Learning from the Masters by E. Maiotti. This is a charming book from Italy which discusses the basics of painting in watercolors and the traditional European technique of imititating "the masters" while learning to paint. The reproductions cover a wide range of styles, even though all "masters" are dead white men (one demonstration of a floral painting is provided by a female painter). I enjoyed this book years ago, and happy to find it again. The author's own works are reproduced in a dark way that makes the people look blue-green - don't be alarmed.
Project Censored Guide to Alternative Media and Activism by Peter Phillips. This is a list of all progressive media sources, organizations, and projects compiled by the Project Censored team at Sonoma State University. A seasoned and media-obsessed progressive reader will already be familiar with many of the sources in this publication, but it's useful for discovering new groups and resources.
Our Media, Not Theirs: The Democratic Struggle Against Corporate Media Robert W. McChesney, John Nichols. This is a call to action against the privatization of public resources: our airwaves and all broadcast spectrums, which have reduced free speech to something that is bought and sold by those in power.
Journey on the Crest: Walking 2600 miles from Mexico to Canada by Cindy Ross. This is one woman's tale of her two-part, mid 1980s Pacific Crest Trail hike with a wide variety of companions she met along the way, only some of whom were completely nutso. Her descriptions of the trail's beauty, monotony, and vistas makes the PCT come alive. Ross manages to capture something I haven't been able to explain adequately: how something as satisfying and fun as backpacking manages to be so challenging in its moment to moment details that it doesn't actually sound fun, and yet is still worth doing. Thanks to her descriptions, there are parts of the PCT that I am now determined to see, and others I am determined to avoid forever. (Hiking through the SoCal desert next to a highway? I don't think so!)
We The Media: A Citizen's Guide to Fighting for Media Democracy edited by Don Hazen and Julie Winokur. This book is the result of the first Media and Democracy Conference in SF in 1996. As media ownership rules had just been loosened, activists at the beginning of the deregulation boom articulate the flaws of the media system, the need for a strongly democratic media system for a well-informed electorate, and the threats posed by deregulation to media and information freedom. Oh, were they ever so right! The book details the state of media consolidation at that time, the way corporations use their money and editorial pages to push press releases that skew debates in their favor, cartoons about media influence, media's fear-inspiring obsession with violence and crime, information on groups you can support, and more. It's a valuable resource. Hopefully the 2003 media conference will generate a similarly valuable reference.
Long Walk to Freedom - the autobiography of Nelson Mandela by Nelson Mandela. Mandela's life is an epic tale: an idyllic country childhood, boarding school, running away to the big city, realizing the limitations South Africa's government used to oppress blacks, becoming an activist, trying to raise a family, being 'banned' and subject to house arrest, going underground, running a law practice, being labeled a terrorist for advocating equality and justice for his people, and being sent to prison for most of his adult life for his views... Mandela's firm belief that he had an obligation to his people and family to give them a fair chance at living in the world is unshakeable. His belief in freedom and justice survived decades of imprisonment in a system so racist, even jail food was different for inmates of different races. Mandela's autobiography is remarkable, all the more for being true! Of surprise are his discussions of justifiable violence against the physical infrastructure of a violent and repressive state, and long consideration of a revolutionary army to provide the rights that years of peaceful protest had not. This is the best autobiography I've yet read.
CARtoons by Andy Singer. Brilliant cartoons about the opression and illogic of car culture in the U.S.
Love In Action: Writings on Non-Violent Social Change, by Thich Nhat Hanh. This compilation of selections from 20 years of Nhat Hanh's peace work is a strong reminder of why Martin Luther King, Jr. nominated this man for the Nobel Peace Prize. Works include a play populated by the souls of friends murdered in the Vietnam conflict for their peace work, which discusses the way humans can be dehumanized with political labels; a 1966 speech pointing out the flawed logic in the U.S. campaign of bombing Vietnam to win Vietnamese support; words he shares with veterans of wars to speed healing; and commentary on the Iraq wars. Nearly every remark about a past violent conflict could easily be applied to one more recent, which is jarring, as it should be. His observations about how there is no value in accepting the conditions of sick societies are rather painful. This book makes me want to re-read many of his earlier 60 or so books, some of which, like Being Peace, are beautiful. It helps to like Buddhism to enjoy his works, but is not especially necessary for this volume.
10 Reasons to Abolish the IMF & World Bank by Kevin Danaher, co-founder of Global Exchange. This is a tiny book in the Seven Stories Press Open Media series is a concise analysis of the abject failures of the world's largest anti-poverty lending programs. After 50 years, the nations that have complied with the IMF and WB's programs to raise themselves out of poverty are still poor. The world's most successful economies have never followed any of these programs. There have been no long-term success stories for these international agencies. Why not? What could it possibly be wrong about loaning vast sums of money to the most entrenched and porweful people in a poor country, cutting health care and education spending, exporting the best resources a nation has to offer to repay bloated loans, and dropping all protectionism against the subsidized products of richer nations? For all those of you who really believe that protests against the world's capitalist financial institutions are just ignorant tirades against the idea of international trade, READ THIS. Alternatives to the current system are suggested; lists of resources and a bibliography are provided. The author has written longer books on the topic, and edited the cleverly titled Corporations are Gonna Get Your Momma: Globalization and the Downsizing of the American Dream, which I may read just for its clever title.
Small Wonders, by Barbara Kingsolver. This is a collection of essays, some of which started out as responses to the September 11th attacks, but which are wide ranging. She discusses daily life, where food comes from, how she reconciled her chicken-raising daughter with eating chickens they didn't personally know, the author's relationship with her mother and daughters, and the desire to have peace. They're well written. The essays were a little spooky, in that I agree with the author on entirely too many things.
War Talk by Arundhati Roy. These lovely essays describe the pitfalls of the misuse of power and how we are all harmed by injustice. Her poignant essay about the many September 11ths the rest of the world has endured makes me wish that she was more widely known: the interviews I have heard in which ordinary Americans who insist the rest of the world doesn't understand our pain because they have never suffered as we have (!!!!!) are some of the most discouraging, ignorant words I have ever heard, and Roy's words are a cure I wish to apply widely, like a salve, to my peers' ignorance. Roy seamlessly connects the ugliest aspects of globalization with the military force and political corruption that is required for the plundering of common resources by the privatizing few. Her introduction to a Chomsky book is a historical survey, spanning years, but all tired together by her unsparing perspective and deep knowledge that we could be running this world ever so much more skillfully, more fairly, more justly.
Persepolis by Marjane Satrapi. An adorable and deeply expressive graphic novel autobiography, on Satrapi's childhood during the Islamic Revolution of Iran. Murdered relatives, pressure to pray, her child's sense of fairness... It's brilliant.
The Immortal Class: Bike Messengers and the Cult of Human Power by Travis Hugh Culley. This book actually made me nervous: the intensity of Culley's prose about the battlefield that is downtown Chicago's financial district could be nerve-wracking even to READ about. But ultimately the book is a pleasure: an insight into a lifestyle of cycling in the bitter cold, struggling in the museum business, earning the respect of the subculture one most wants to belong to, and a passionate love for a city and all it has to offer. Culley covers urban planning, Chicago history, modern activism and the experience of gliding silently and powerfully through the world as one component of a business districts lifeblood. I enjoyed his thoughtful, stressful, joyful perspective.
This Cold Heaven by Greta Ehrlich. I now know that I never, ever, ever want to go to Greenland. But this didn't stop me from enjoying Ehrlich's passionate love for sunless days, fresh air, racing across the ice in an open sled behind baying and joyful dogs, tightly knit communities, and an elaborate cultural history of the people of the far, far, far, far north. She documents her own, multi-month trips to Greenland, plus recounts the adventures of anthropologist and semi-native Knud Rasmussen, who spent years of his life visiting the people on the roof of the world, recording their stories and songs, and traveling up to 3 years in an effort to know it ALL. Rasmussen traveled from Greenland all the way to Nome, Alaska on his longest outing, recording nearly all we know about a people who both are and were constantly on the verge of change.
Ehrlich's love for Greenland does not blind her to its problems: a polluting and disruptive American military presence and related nuclear contamination; alcoholism and poverty; pressure to further 'modernize' the locals into a consumer lifestyle which is not sustainable on the roadless coasts of the world's largest island. Also, there are all those parts about eating seal, day after day after day, if you're lucky. No thanks! But she does share her awe, and does so in an educational way. And now Greenland keeps coming up in conversations: as a quiz answer to a radio question; as it relates to Danish and Viking history; as a place where one could almost certainly avoid having to see Bush's face.
Heroes and Heroines in Haida-Tlingit Legends by Mary L. Beck. I picked this up at the fabulous University of British Columbia's Vancouver Anthropology Museum, to try to understand the symbols in the First Nations art I enjoy so much. This book is a broad survey of beliefs which tries not to be too specific, because stories are the cultural property of specific families, and to tell their stories for them is an intrusion and a sort of intellectual property theft. The book treads on ground that is so widely shared, it is communal property, in some cases from the Vancouver area all the way up through Alaska and east to Greenland! This was good preparation for reading Ehrlich's book, above, but would be better if it could provide more depth.
Looking at Indian Art of the Northwest Coast by Hilary Stewart. This is one of the more brilliant art books I've used: it shows how the animals and symbols of the Pacific Northwest are abstracted into the beautiful, highly stylized art of the people who have been there for thousands of years. Now I can tell a bear from a man from a raven! The line drawings, all made by skilled local (Pacific Northwest) artists, are gorgeous. I appreciated the art much more once I recognized more of its meaning.
Pinky and Stinky by Kolchaka. This is a graphic novel displaying the adventures of two cute little piggy astronauts. It's quite darling.
The Red Tree by Tan. A gorgeous children's book about being sad, featuring gorgeous paintings, each one of which is extraordinarily vibrant and detailed, and each one of which holds, in some hidden corner, a red leaf of hope.
Get Your War On by David Rees. These are some of the most profane, most accurate depictions of life in the Bush era imaginable. In an era of lies, lies, corporate malfeasance, corruption, and pressure to pretend that all is well, the clip-art characters tell us how they really feel. And they use the language in a way that is immediately familiar. Bonus: all proceeds go to clearing landmines in Afghanistan.
You're An Animal, Viskovitz! by Alessandro Boffa. I really did cry reading this, I was laughing so hard. I also subjected S. to certain chapters aloud, because I couldn't get over the incredible writing. Viskovitz is one animal after another, looking for love in all the wrong places. As a snail, as a penguin, as a scorpion, vain Viskovitz stumbles through relationship disaster after relationship disaster in the most comic manner imaginable. This is also perfect for reading on the bus, because no one story is more than a few pages long.

refreshed February 2019